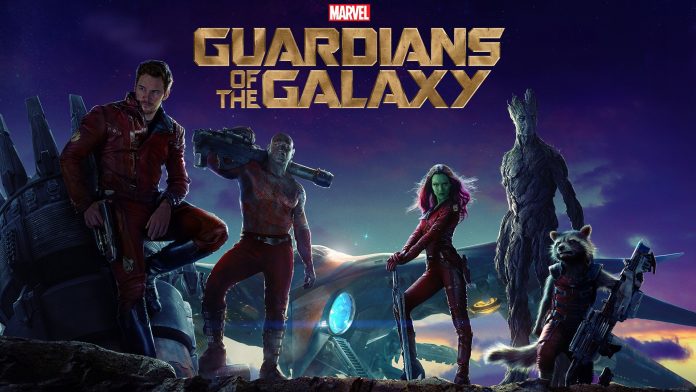 With the impending arrival of Captain America: Civil War, we are taking a look back at the movies that brought the MCU to this point. So take a trip back in time as we break down Marvel's Phase 2 film-by-film. You can check out the reviews on Iron Man 3. Thor: The Dark World and Captain America: The Winter Soldier here. Up next, our Guardians of the Galaxy Retro Review.
GUARDIANS OF THE GALAXY
The Summary: Ronan, an alien warlord, is causing devastation and chaos throughout the galaxy. He declares war on Xandar, a world that offers peace and order. Caught in the middle of the action are a group of outcasts. In possession of an ancient artifact that can destroy the entire Universe, it's up to these Guardians to stop Ronan before he lays waste to Xandar, and soon after the rest of the galaxy.
-Did I mention this movie has a talking tree and raccoon?-
Pros: If there was a MVP award to be handed out for this movie, it would be for director James Gunn. He told a great story filled with colorful characters in a movie that would have been considered the Star Wars of this generation, had the Star Wars franchise not been rebooted already. Gunn's filmmaking style came out in full force and it's hard to imagine another director taking The Guardians of the Galaxy material and transforming it into the massive success the film became. Gunn made it possible for us to care about a humanoid tree… and made it believable that a mining operation could occur in the remains of a cosmic celestial. Bravo Mr. Gunn; I can't wait to see how you outdo yourself in Guardians of the Galaxy Vol. 2.
You also can't talk about MVP awards without mentioning Chris Pratt (who comes in at a very close second). Peter "Star-Lord" Quill is the most important character in the movie. Known to most as the dimwitted Andy Dwyer from Parks and Recreation, it was hard (at the time) to envision Pratt as a leading action star. Did he exceed expectations or what? Guardians was the launching point of Pratt's sky-high career, who has since followed his run with Jurassic World, and a Magnificent Seven remake; he's even rumored to be taking over the Indiana Jones franchise when Harrison Ford hangs the whip up. Ten years from now, when Pratt is still dominating Hollywood, you can pinpoint his origins of a Hollywood A-Lister to his starring role in Guardians of the Galaxy.
Cons: Even a movie like Guardians of the Galaxy has its faults. In particular we have to look at Ronant the Accuser; Ronan is pretty much is a copycat of Malekith from Thor: The Dark World. They're both leaders of an ancient alien race who promise to bring old world destruction on their foes. They both want to conquer the universe… simply because. They both reach their pinnacle by harnessing the power of an Infinity Stone, only to be over- powered by their movie's respective heroes. Listen, I loved Guardians of the Galaxy, but if Malekith won't get a pass for being a bland antagonist, then Ronan won't get one either.
Impact on the MCU: Well, another Infinity Stone, the Power Gem, showed up (the fourth at that point). However, thanks to the Collector, we finally understand why they are important. Benicio Del Toro is only in the movie to let the viewers know why Infinity Stones are crucial to the MCU. He delivers exposition to demonstrate their power and explain how not anyone can handle them (more on that soon). So if you didn't already scour the internet for what the stones mean… Guardians gave you a quick," Infinity Stone 101″ tutorial.
So about the people who can handle an Infinity Stone… Well, Ronan and Star-Lord get a good grip on the Power Gem, but it's really Thanos who we want to see get a hold on them. Guardians finally gave us our first good look at the Mad Titan; we see him challenge Ronan and learn about his tyranny due to his relationships with Gamora and Nebula (his adopted daughters). We now know how Josh Brolin will play the character… and I don't know about you, but I can't wait to see more of the big purple guy.
Ted's Take: It's a perfect blockbuster movie. It's funny, action-packed, heartwarming, and everything else you want in a film jammed into a space-filled frenzy. I personally loved how Gunn took established actors like John C. Reilly, Glen Close, Del Toro and Djimon Hounsou and made them supporting players. I mean… he even took Vin Diesel and Bradley Cooper and had them play CGI characters. That allowed Chris Pratt, Zoe Saldana, Dave Bautista, Michael Rooker and Lee Pace the chance to shine. It was perfect character balance.
Guardians of the Galaxy is the black sheep of the MCU, but in the best way possible. It's unlike any other movie Marvel has put out to date. The movie takes you to worlds we have never seen before and makes you believe these characters really interact across the universe. I cannot wait to see how the Guardians adventure continues in Vol. 2 next year and how their journey shakes the MCU, which could possibly leading to major events in Infinity War. Fingers crossed.
Up Next: Avengers: Age of Ultron