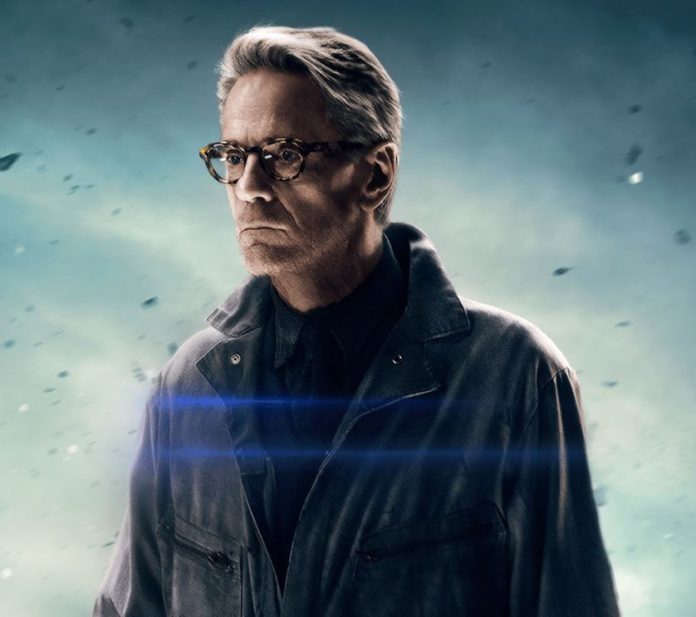 Initially, Irons wasn't the biggest fan of Batman v Superman, adding his personal distaste to the already burgeoning droves of negative reviews. Later, actor Jeremy Irons was very much okay with Batman v Superman, noting Zack Snyder's undeserved critical hammering, the positive financial return, and the exuberance of (some) fans. Regardless of his opinion, our opinion, or your opinion, Irons made a great cinematic Alfred, and we're going to see him standing cape to side-arm in 2017's Justice League.
Sure, Alfred's met with, and served chilled, shrimp-filled goblets to, the Justice League in plenty of DC comics, but the Wayne family servant never found himself mixing it up with DC's premier super-team on the big screen. Speaking with our very good friends at IGN, Irons shared Alfred's perspective when he finds himself surrounded by such a colorful, powerful, extraordinary group of seemingly (and sometimes literally) otherworldly heroes.
"I think he's waiting with baited breath to see what is going to happen," Irons said. "He's in the employ of Bruce Wayne and he doesn't always agree with him but I think he'll help where he can. And I'm not sure in Justice League we'll see that much of him because we have five superheroes to deal with and Alfred is just the batman [a term for the soldier-servant of a commissioned officer in the British military] of one of them. It'll be very interesting to see where he gets to, when we get to Ben [Affleck's] production of Batman this spring. I haven't read the script of it yet. I think all of us who are sort of normal human beings, which Alfred is, we watch the gods with amazement and some spite."
Alfred will also be more hands-on in Justice League. Sure, he'll be there to butter biscuits and repair and develop effective crime-fighting equipment, but he'll also operating the tail-gun on the Flying Fox, an airborne command center developed by both himself and Bruce Wayne in an effort to grant the Justice League a proper, mobile base of operations. Irons explained his ability to do anything and everything under the employ of Bruce Wayne is inspired by a real-life relationship.
"Yeah, Alfred is a very hands-on," the actor said. "What I based Alfred on really was a close neighbor of mine, used to be before he died, Paul Getty. I remember the first time I went to dinner with him. I reached gates and a very kind gentleman took my car and parked it. I walked in and another very kind gentleman took my coat. And then Paul showed us through the hall and another very kind gentleman gave me a glass of champagne and then a very kind gentleman served us dinner. I learned during the evening that every kind gentleman who had been taking care of me was actually an ex-SAS member who was there to protect Paul. I thought, yeah, that's Alfred really. He's there. He'll do anything. That's where he comes from. That's his mindset. He'll wash the dishes, but he'll also be a tail gunner."
And what's his current opinion on Affleck's Batman film?
"I'm interested and I'd hold judgement until I read the script. We will see. Ben's a great consummate director and I'll be fascinated to see what he comes up with."
So, ready for Alfred to serve sandwiches and reload rocket launchers aboard the Flying Fox in 2017's Justice League? SOUND OFF!