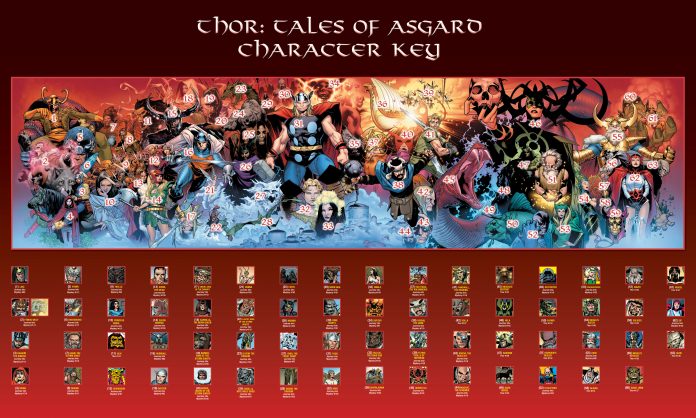 If Marvel was playing the slots, they just landed on the Asgardian jackpot. Today, the studio revealed the impressive lineup they put together for 2017's Thor: Ragnarok. Oscar winners, blockbuster legends and one big angry green dude are about to join "The God of Thunder" as he heads off in an intergalactic journey. So who's part of the amazing cast for Thor: Ragnarok?
Cate Blanchett as Hela
It's finally confirmed; two-time Oscar winner Cate Blanchett has entered the Marvel Universe (Mark Ruffalo did let this news slip out earlier this year). Now, we know exactly who she will be playing: Hela. She is the ruler of Hel and someone that will truly rival Thor. Don't believe me? Then check out this concept art Marvel dropped with their casting announcement.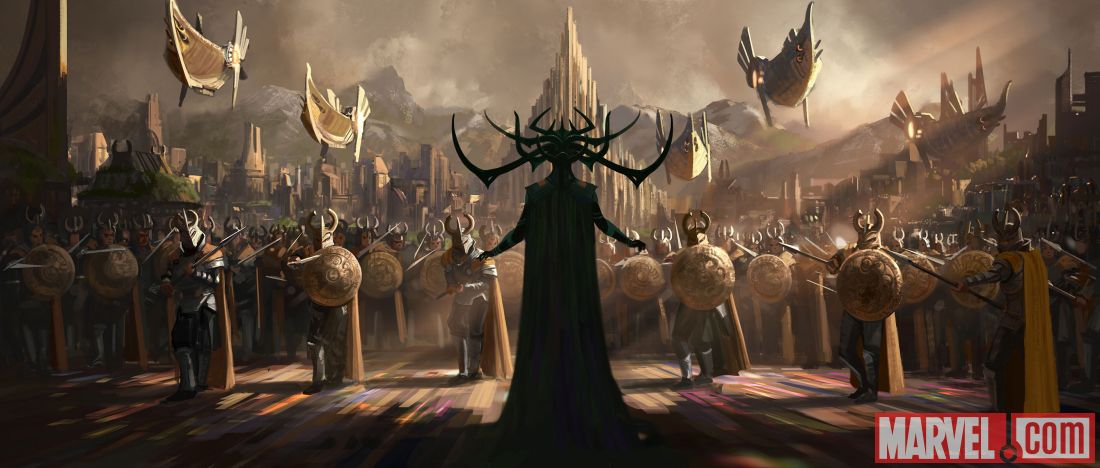 Yeah… that's the entire Asgard army ready to take down one person. Clearly she's going to be the baddest foe Thor has to contend with. And if she ends up teaming with Loki (like many believe will happen), then there is some real trouble coming to the Galaxy.
Jeff Goldblum as The Grandmaster
Wait. What?!? Dr. Ian Malcolm himself is now making his way into the MCU. To top it off, he's playing an ancient being who has connections to the Mind Stone! While it's way too early to tell, The Grandmaster will probably give Ragnarok some connection to Thanos and the Infinity Stones. But all that speculation can wait; Jeff Goldblum is now in bed with Marvel and that's all you should need to know. His blockbuster career is back on track with Independence Day: Resurgence; now he can stop fighting aliens and instead become an ancient one himself. Dreams = answered.
Karl Urban as Skurge
Goldblum isn't the only surprising name dropped by Marvel today. They also revealed that Karl Urban is coming on board to play an Asgardian who swings a mighty big ax: Skurge. The character has a history working under Loki, so fully expect Urban to become the muscle to Hiddleston's mind. Urban has garnered a loyal fan base thanks to his roles in Dredd and Star Trek, and can now stretch his fanboy cred into the Marvel Universe.
Tessa Thompson as Valkyrie
Roles in Creed and Selma have skyrocketed Tessa Thompson to the top of "Hollywood's Next Big Thing" list and now, like every other young actress, she gets to try her hand at a superhero movie. To top it off, she gets to play a character that fans have been clamoring for: Valkyrie. You have to hope that the character's movie version is still the leader of The Valkyrior (a group of amazing female Asgard warriors) and can lead Thor into the gates of Valhalla… where he can enter Hel.
And the Rest…
Those are four stellar actors joining an already stacked cast that brings back Chris Hemsworth (Thor), Tom Hiddleston (Loki), Idris Elba (Heimdall) and Anthony Hopkins (Odin/Loki in disguise). There's also the possibility of The Warrior Three and Lady Sif showing up (Jamie Alexander mentioned it on her twitter). Oh, and did I mention that Mark Ruffalo is also involved? This brings Bruce Banner and the Hulk into space (and hopefully incorporates some version of the Planet Hulk storyline). Heck, even Marvel Studios President Kevin Feige knows the studio pulled off a coup with this cast.
"The continuation of the epic Thor franchise will be powerful and unique, and with the additions of Cate, Jeff, Tessa, Karl, and Mark to the cast we have the makings of his most dangerous and heroic adventure yet," said Producer Kevin Feige. "The sheer, raw talent each of these actors brings to the screen can't be quantified. Having any one of them join the Marvel Cinematic Universe would be an honor, and having all of them is incredible."
If Thor: The Dark World let you down (and for many it did), then it appears Ragnarok will bring you right back up. Director Taika Waititi (What We Do in the Shadows) is an excellent choice who is sure to bring some of his comedy background into the Thor universe. If he can balance all these amazing characters and build off the momentum Civil War has built for the MCU, then Thor: Ragnarok has the potential to be one of the most impressive movies Marvel will ever put out.
Thor: Ragnarok hits theaters on November 3, 2017. With today's announcement… that date can't come soon enough.