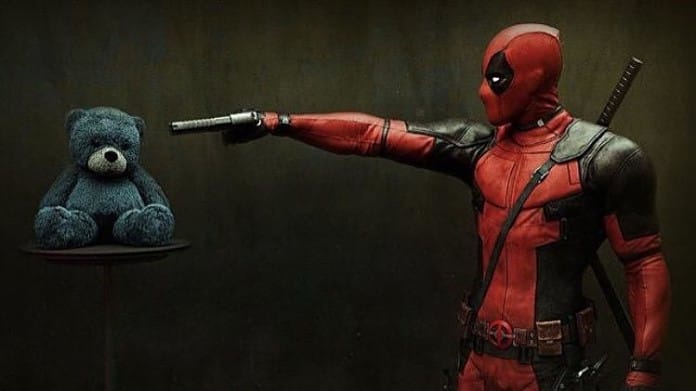 The 12 Days of Deadpool continue! Recently, we reported on a Deadpool movie promotion involving the release of new, exclusive, Deadpool movie-related media for each day leading up the debut of a brand new Deadpool trailer (click HERE for the full article detailing the 12 Days of Deadpool)! So, on the 12th day – Christmas Day – we get to see a brand-spankin'-new trailer featuring everyone's favorite 'Meat with a Mouse.' Wait…that's not right. 'Corn with a Blouse?' Nope…that doesn't sound right, either. Okay, how about 'Milk Box with a Spout?' No? DAMN IT!
Anyway, the 12 Days of Deadpool celebration continues with these newly released images Tweeted by our friends at Empire Magazine!
Watch this space… #12DaysOfDeadpool pic.twitter.com/cYarE0fZPo

— Empire Magazine (@empiremagazine) December 17, 2015
First up, we have Deadpool applying graffiti to a very unlucky, unsuspecting brick wall. It's worth noting that the Deadpool symbol is expertly rendered; I'm sure there was an officially licensed stencil involved. Oh, and it also includes the words, "Coming soon." I wonder what's coming soon? The movie? An orange zebra?? The next ice age??? I DON'T KNOW!!!!
Looks like we're about to make someone's Christmas wish come true… #12DaysOfDeadpool pic.twitter.com/ObPjVdM5U3

— Empire Magazine (@empiremagazine) December 17, 2015

Next up, Deadpool's Christmas list! NEATO! Looks like Empire Magazine fulfilled one of his wishes, but the rest? Well, it's doable, but I think he'll have more luck procuring these items through an arms dealer than the portly, saintly avatar of Christmas giving.
YAY! Deapool!
Armed with accelerated healing powers and a twisted sense of humor, former mercenary Wade Wilson (Ryan Reynolds) goes in search of the man who nearly destroyed his life.
Directed by Tim Miller, Deadpool debuts February 12, 2016 (USA)