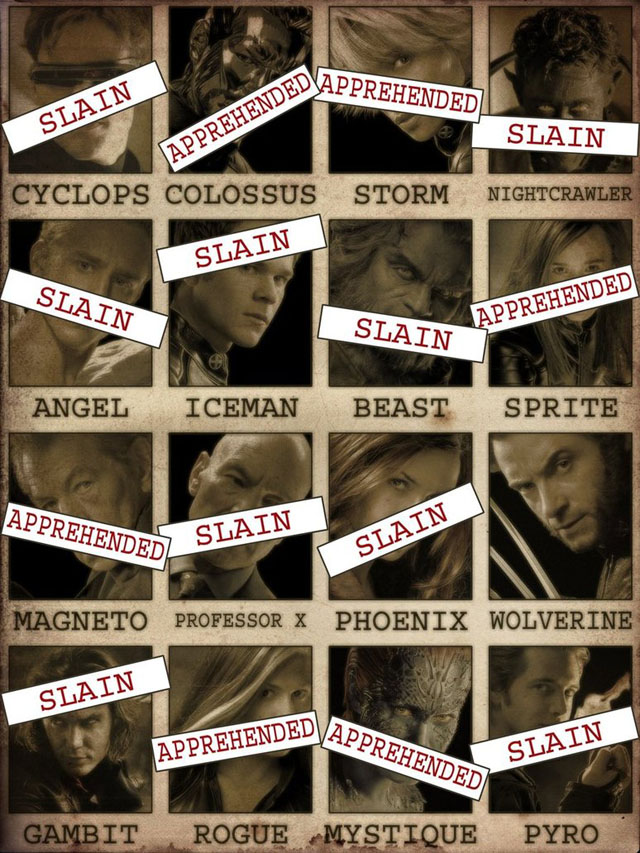 The wponx Instagram account posted yet another image of the filmic, weathered landscape upon which Hugh Jackman will share his third and final adventure as the feral, somewhat immortal mutant, Wolverine. Yep, these very subtle glances of a gray-scarred dystopia portend the world an older, severely despondent Wolverine inhabits in 2017's R-rated Wolverine flick, LOGAN. Today's wponx image continues to dish out the misery with a hastily carved question adorning a restroom's stall: Where are all the mutants? Hmmm. Good question.
So, where are they? Honestly, the series of images we've seen defined a rather bleak landscape, so the proper question should be, "Where is the police department, the fire department, the food, sunlight, or will to live?"
Anyway, the actual question is pertinent considering Logan is milling about a future where the X-Men are dead and gone. Oh, and possibly the entire mutant population. How did this happen? Well, we're not quite sure about that. If LOGAN follows "Old Man Logan" closely, the state of things is due to a victorious cadre of super-villains. I have a feeling LOGAN will be diverging from the "source" material. I mean, seriously diverging.
LOGAN currently has a release date of March 3rd, 2017 and stars Hugh Jackman, Patrick Stewart, Boyd Holbrook, Richard E. Grant, Stephen Merchant, Eriq La Salle and Elise Neal.