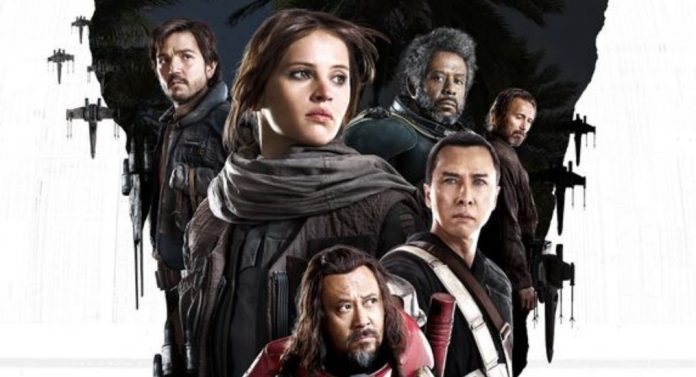 When Rogue One: A Star Wars Story hits theaters on December 16th, we'll finally get a certain, tide-turning backstory hastily referenced in the upwards-scrolling introduction ahead of Star Wars Episode IV: A New Hope. Yep, if you ever wanted to know just how a rag-team group of rebels absconded with those incredibly informative Death Star plans, here's your chance; Rogue One tells the story of Jyn Erso and a particularly roguish squadron of Rebels, and their successful, although previously undisclosed exploits to secure said plans. So, to properly celebrate their proven but hard-fought victory, we've been granted the following, official IMAX poster for Rogue One!
It's the whole gang from Rogue Squadron as they populate a lengthy tear running along the…uh….exosphere (?) of the Death Star surrounded by an accompanying squadron of X-Wing fighters.
Oh, and this IMAX Rogue One poster is egging us on to "go rogue." Believe you me, when the Rebellion's at stake, I will 'get my Rogue on' (and Disney, you can use that for the next poster). Yep, gettin' my Rogue on.

Star Wars: Rogue One arrives December 16th, 2016 and stars Felicity Jones, Diego Luna, Riz Ahmed, Ben Mendelsohn, Jiang Wen, Donnie Yen, Forest Whitaker, Mads Mikkelsen, Alan Tudyk, Jonathan Aris and 10,000,000 Stormtroopers hellbent on killing everyone everywhere.