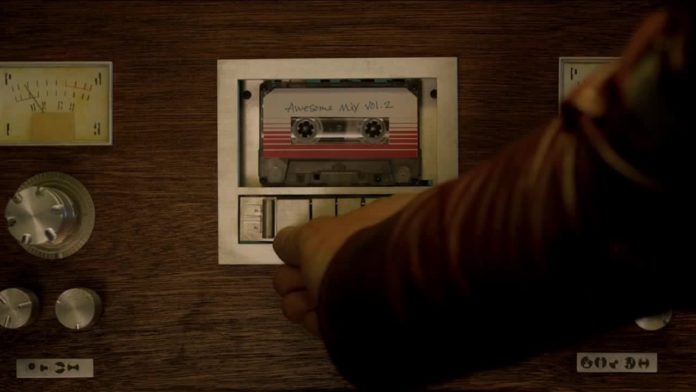 SPOILERS FOR GUARDIANS VOL. 2 AHEAD!
If you've been to a movie theater in the last week, you know that Guardians of the Galaxy Vol. 2, much like its predecessor, had a great soundtrack…though not a perfect soundtrack.
Tracks like Sweet's "Fox on the Run" and Fleetwood Mac's "The Chain" grabbed fans' attention in the Guardians Vol. 2 trailer. Even the film's opening with ELO's "Mr. Blue Sky" mesmerized viewers, who watched with glee as Baby Groot danced just for them. However, in other moments, the music was lacking or just didn't fit quite right. Fortunately, there are plenty of hidden or forgotten gems from the 60s, 70s, and 80s that would have made Awesome Mix Vol. 2 just a little more awesome:
1. "Best of My Love" – The Emotions
"Best of My Love" might be one of my favorite songs of all time. However, with Baby Groot appearing throughout the Guardians sequel, this classic would have been the perfect song for Baby G to get down to. It's upbeat and matches the quality of love Groot/Baby Groot gives to his team: his best. Whether it's sacrificing himself for their survival or just taking the time to wave to Gamora mid-fight, Groot cares deeply for his galaxy-guarding family.
2. "Time" – Jackie Moore
Now, this jam from Jackie Moore would be amazing for some shots of the Milano flying across the cosmic scenery. The slow build allows for some relaxed flight before the subtle, incremental arrival of serious space-drama. Additionally, the title, "Time," could have been used to emphasize the many moments where time is working against the Guardians throughout the film.
3. "Frankenstein" – The Edgar Winter Group
At any point in one of the Guardians' many battles against the Sovereign, the Ravagers, Ego, or each other, there could have been this epic track from the Edgar Winter Group playing in the background. From the drum solo to the awe-inspiring keyboard riffs, this hard-hitting hit from the 70s could have easily backed any bada$$ scene from Guardians of the Galaxy Vol. 2 and backed it well!
4. "Fantasy" – Earth, Wind & Fire 
The moment Star-Lord, Drax, and Gamora arrived at Ego's planet was really nothing more than a chance for the CGI department to show off a little. The planet they built was astonishingly beautiful, unlike any audiences have seen before. Yet, as George Harrison's "My Sweet Lord" played in the background, I personally couldn't help but think there was a better song out there to accompany the moment. Truthfully, this is where composer Tyler Bates should have taken over. However, a song like Earth, Wind & Fire's "Fantasy" or "September" could have been fun too.
5. "Best Thing That Ever Happened to Me" – Gladys Knight & The Pips  
Gladys Knight is arguably one of the greatest singers of all time, and this amazing song from her and her band, the Pips, could have taken Guardians Vol. 2 to another level. Aside from being just a fantastic song, the endearing and open lyrics could have been utilized for any of the relationships in the film: Peter Quill and Gamora, Peter and his father, Peter and his mother, Rocket and Groot, or any combination of the above if filmed in such a way. No matter the placement, this song could have defined one or multiple relationships gracefully.
6. "96 Tears" – ? & The Mysterians
https://www.youtube.com/watch?v=LiQbtRYty1Q
Yondu's murder spree against the Ravagers in Guardians Vol. 2 was unexpected but awesome; it paired extremely well with Jay & The Americans' "Come a Little Bit Closer." Though "96 Tears" could have been another fun track for either Yondu or Rocket's attack on the Ravagers.
7. "I'll Be Around" – The Spinners
Since the sequel decided to be a bit more emotional than the first, the music on Awesome Mix Vol. 2 follows, making it more mellow and more meaningful. This classic from The Spinners could have been an excellent addition in that way, once again building on the various relationships in the film. Additionally — and no disrespect to Sam Cooke, who is indeed one of Earth's greatest singers — "I'll Be Around" could have been a perfect track for the slow dance between Peter and Gamora.
8. "Raise a Little Hell" – Trooper
Admittedly, this song may have been best suited for Suicide Squad's soundtrack. However, it could have made a perfect addition for a Guardians film as well. Either way, both teams of a-holes love to raise hell, and this is the only song worth doing it to — as evidenced by the title.
9. "Only the Good Die Young" – Billy Joel
Oddly enough, I can see this song being played as Star-Lord powers up and starts to Man of Steel-style fight his father, Ego. Would it have been weird? Absolutely, but maybe kind of awesome too. If only the good die young, then this anthem could have served two meanings: 1. Peter's willingness to do whatever it takes to eradicate his father and avenge his mother, even if it means dying to save the galaxy. 2. Peter is — like the rest of the Guardians — an a-hole, so he doesn't need to worry about dying young.
10. "Don't Think Twice, It's Alright" – Bob Dylan or Peter, Paul and Mary
Guardians of the Galaxy Vol. 2 ended sadly — with the death of Yondu, who sacrificed himself for his son, Peter Quill. Whether by Bob Dylan or Peter, Paul and Mary, this song would have been a perfect accompaniment for the spectacular yet somber Ravager funeral as a final, musical goodbye for both Peter and his friends.
Bonus: ANYTHING by David Hasselhoff
I mean… how can you give David Hasselhoff a cameo — a rap on "Guardians Inferno" — and have Star-Lord talk about how great a singer he is without including one of his songs? James Gunn, you can't hassle the hoff like that!
Let The Source know what songs you would have added to the Guardians Vol. 2 soundtrack in the comments down below!