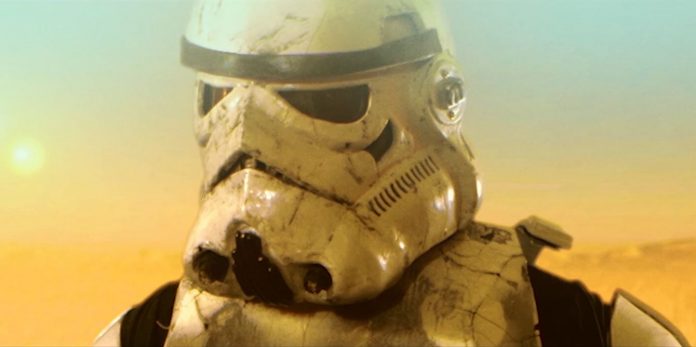 Remember when we told you all about the annual Star Wars Fan Film Contest? About all the cool prizes you could win for a filmic masterpiece expressing your severely neurotic adulation for all thing Star Wars?? And remember who was the final judge, jury and executioner of your celluloid Star Wars dreams? That's right, it was Gareth Edwards, the very Gareth Edwards responsible for directing Star Wars Episode VIII! Well, the contest is over, and the winners for the 2016 Star Wars Fan Film contest have been decided! Curious to see who successfully stomped the necks of an aberrant rebellion in seven specific award categorizes? Good, because we have all seven Star Wars fans films that took home the "gold" immediately below this somewhat unnecessary, prefatory introduction! OBSERVE!
TK-436: A STORMTROOPER STORY

TK-436: A Stormtrooper Story on Disney Video
"The gritty tale of an Imperial stormtrooper who is forced to confront his past in the heat of a battle. Winner of the 2016 Filmmaker Select Star Wars Fan Film Award."
 THE SABLE CORSAIR!

The Sable Corsair on Disney Video
"The crew of the smuggler ship The Sable Corsair fight for survival on a mysterious, hostile planet. Winner of the 2016 Audience Choice Star Wars Fan Film Award."
THE BIG QUESTION!

The Big Question on Disney Video
"Rey can finally confront Luke with all of her questions. The old Jedi Master, however, isn't exactly thrilled about laboriously explaining complicated matters like the Force. Just when Rey wants to have her most burning question answered, Artoo brings up a completely new topic…Winner of the 2016 Best Animation Star Wars Fan Film Award."
FORCE OR FAITH!

Force or Faith on Disney Video
"With the growing number of Jedi, Sith & Force-sensitive fans, we wondered; how dedicated is each fan? How far are they willing to go in order to show their passion and allegiance to the Force? This non-fiction, motion graphic film takes a fun look at the Force, its followers & maybe a new religion. Winner of the 2016 Best Non-Fiction Star Wars Fan Film Award."
STAR WARS: GENERATIONS!

Star Wars: Generations on Disney Video
"A young boy and his grandfather bond over the joy of Star Wars, and how it brings us all closer together, no matter how different we are. Winner of the 2016 Spirit of Fandom Star Wars Fan Film Award."
BEN IN THE DESERT- JAWAS ARE BAD NEIGHBORS!

Ben in the Desert – Jawas are Bad Neighbors on Disney Video
"The Rebellion has begun! Darth Vader is born! All this rad stuff is happening to everyone….except for Obi Wan Kenobi who is on Tatooine where he will spend the next eighteen years as a glorified babysitter…from afar…because he's like not really supposed to talk to Luke…but whatever…Winner of the 2016 Best Comedy Star Wars Fan Film Award."
STAR MALICE WARS

Star Malice Wars on Disney Video
"Alice, her sister, dad, and family droid, "Battle Bunny" combat Imperial forces in an attempt to rescue her imprisoned mother. Winner of the 2016 Best Visual Effects Star Wars Fan Film Award."
So, this should keep you busy for a while…