In an interview with our friends at IGN, Zack Snyder talked about how Robin's death affected and shaped Ben Affleck's Batman. Not only did Zack Snyder use the death of Robin to explain Batman's current psychological state in the new DC Expanded Movie Universe, he also dropped details regarding the nature of Robin's death. Yes, Zack Snyder just revealed how Robin died in the above video.
And if you need further explanation, we already know Robin died because of THIS particular item (below) suspended in the Bat Cave. And we're quite sure of the perpetrator's identity due to the classic "A Death in the Family" Batman story and the chaotically-sprayed, yellow text that couldn't help but include the word, "joke." Well, "joke's," but you knew what I was going for.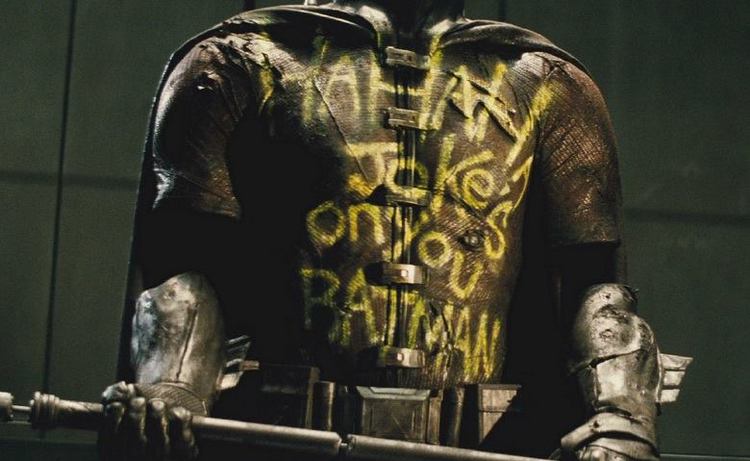 In case you don't have time for the video, here's the bit where Zack Snyder gave us some history behind the tragic death of Robin.
"In my mind, it was that Robin had died 10 years earlier, during some run-in with a young Joker. So there was a fun backstory there to play with. I felt like the whole idea was that there had been loss and there had been sacrifice. In a weird way, he had sacrificed everything to be Batman. He doesn't really have a life outside the cave. I thought that including Robin, a dead Robin, was helping us understand that he's been on quite a little journey."
So, was it Jason Todd who died after a 15-minute crowbar beating at the hands of the Joker? That would be reflective of the aforementioned "A Death in the Family" arc. If it's Tim Drake, we riot.
Now Playing-
Batman v Superman: Dawn of Justice stars Henry Cavill, Ben Affleck, Gal Gadot, Jesse Eisenberg, Amy Adams and Laurence Fishburne. Oh, and probably a lot of unhappy citizens caught in the crossfire when Superman and Batman indulge in a pee-pee contest.