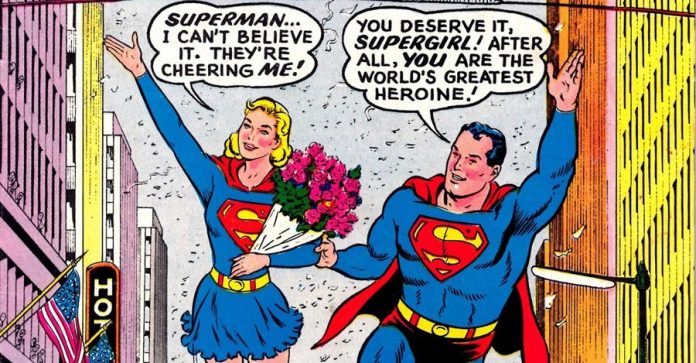 It's a bird! It's a plane! It's a particularly dour Henry Cavill rappelling from a mountain! No, it's Tyler Hoechlin as Superman on Supergirl Season 2! Our friends at Entertainment Weekly recently shared a new, official still from the upcoming, CW-produced season of Supergirl. Conveniently, it features Superman and Supergirl (Melissa Benoist) staring at something resting lower than their noses, but apparently frustrating and/or upsetting. People-sized escape pods, anyone?
With the recent release of the first official poster for Supergirl Season 2, we can't help but wonder when the first season 2 trailer might hit. Today? Tomorrow? Next week? It needs to be soon, considering Kara, the DEO, and her once heavily implied, but finally corporeal cousin return to your living room picture box Monday, Oct. 10th at 8/7c.
"In Season One, Supergirl soared fighting crime and battling various villains, chief among them two Kryptonians who were intent on destroying earth, but she has yet to find that same empowerment as Kara Danvers. Now, in Season Two, Kara has left the safety of being Cat Grant's assistant in order to figure out what she really wants to do, while as Supergirl she continues to work at the DEO., protecting the citizens of National City and searching for Jeremiah and Cadmus. Along the way, she will team up with Superman (Tyler Hoechlin) to battle new villains, as she strives to balance her personal life with her life as a superhero."
Supergirl stars Melissa Benoist as Supergirl/Kara Danvers, Tyler Hoechlin as Superman/Clark Kent/Kal-El, Calista Flockheart as Cat Grant, Mehcad Brooks as James Olsen, Chyker Leigh as Alex Danvers, Jeremy Jordan as Winn Schott, and David Harewood as the g-darn Martian Manhunter!