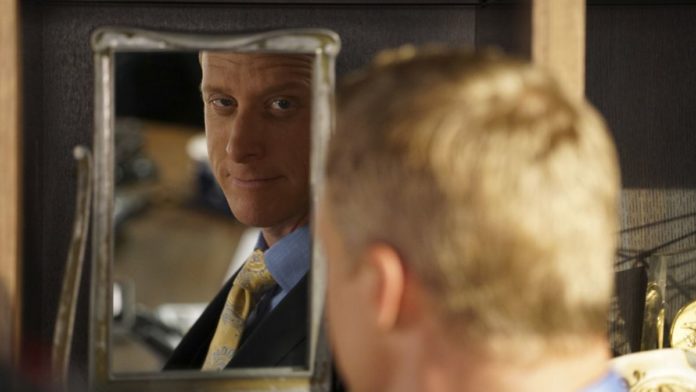 We already know all about NBC's Powerless, DC's brave attempt to inject a little humor into its depressing world of superheroes by letting ordinary citizens take center stage. Vanessa Hudgens plays Emily, an employee at Wayne Security who simply wants to make the lives of ordinary bystanders a little bit safer each day. Along with her boss, Alan Tudyk's Van Wayne, and her kooky cast of co-workers, Emily takes us on an often mindless ride into what goes on in a world where superheroes demolish buildings and destroy bridges on a daily basis.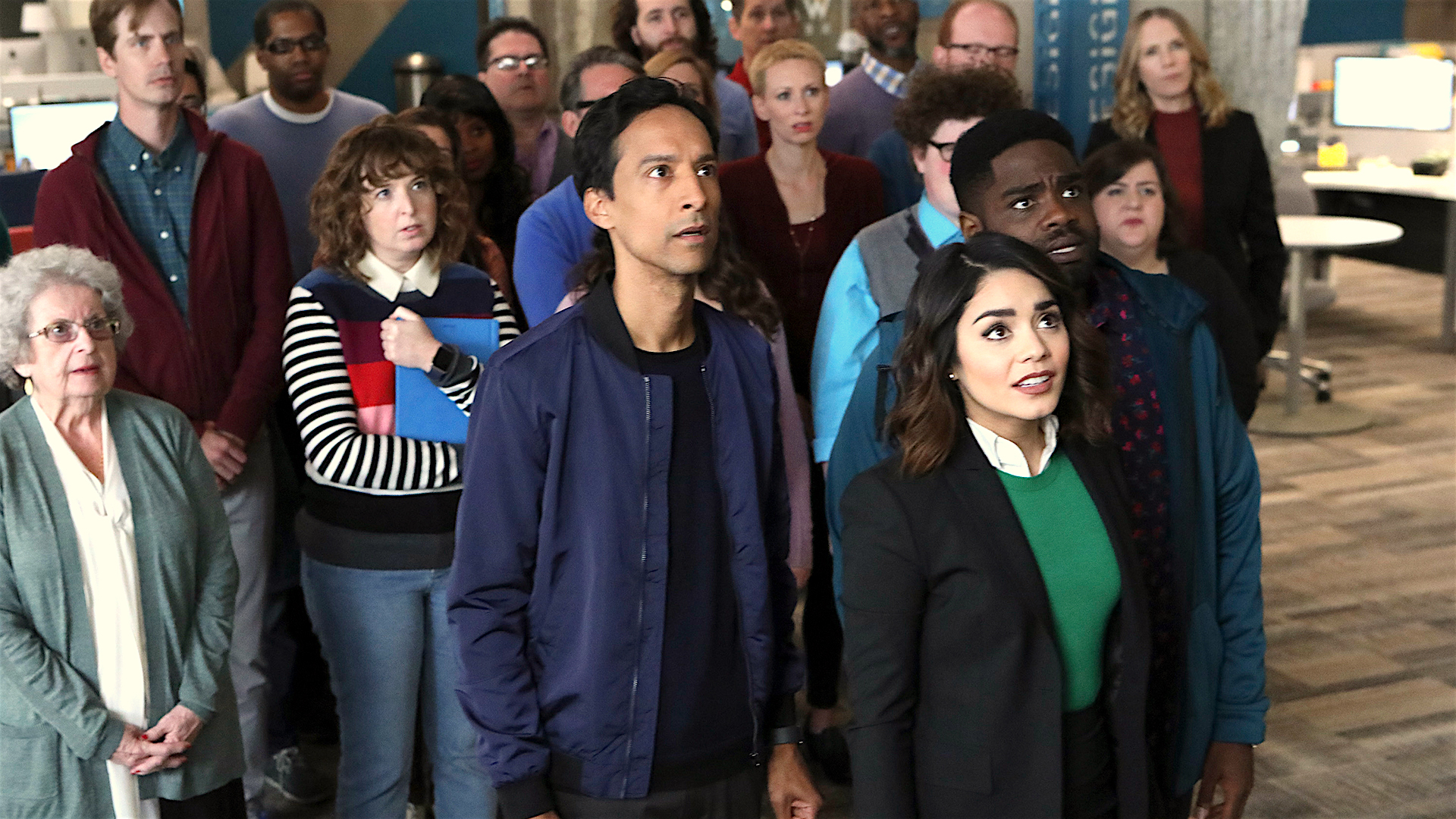 Already on its third episode, Powerless, I have to admit, seems to have finally found its stride—or is beginning to. The first two episodes were mind-numbingly blah, especially since the pilot was trying so darn hard to cram all their non-jokes into a half-hour show, all while giving audiences a wink-wink-nudge-nudge that screamed "Hey, I mentioned Batman! And Superman! And oh, look at all the Waynes!" And while all that namedropping is mildly entertaining, we know that the show can't possibly keep it up for so long. I definitely enjoy all the Easter eggs, but I can't help but wonder if there's anything original that Powerless has to offer after all that?
However, the third episode, aptly titled "Sinking Day," is finally starting to veer away from riding on the existing DC universe's fame and is instead trying to stand on its own two feet. It's a workplace comedy after all, and when Van Wayne loses his big account with Ace Chemicals, it's up to Emily to convince the Atlanteans to do business with them. Now, there's an original plot. Sure, the namedropping is still there, but we finally get to see the dynamic that Van and Emily have as they work together to solve problems in Wayne Security, albeit for different personal reasons.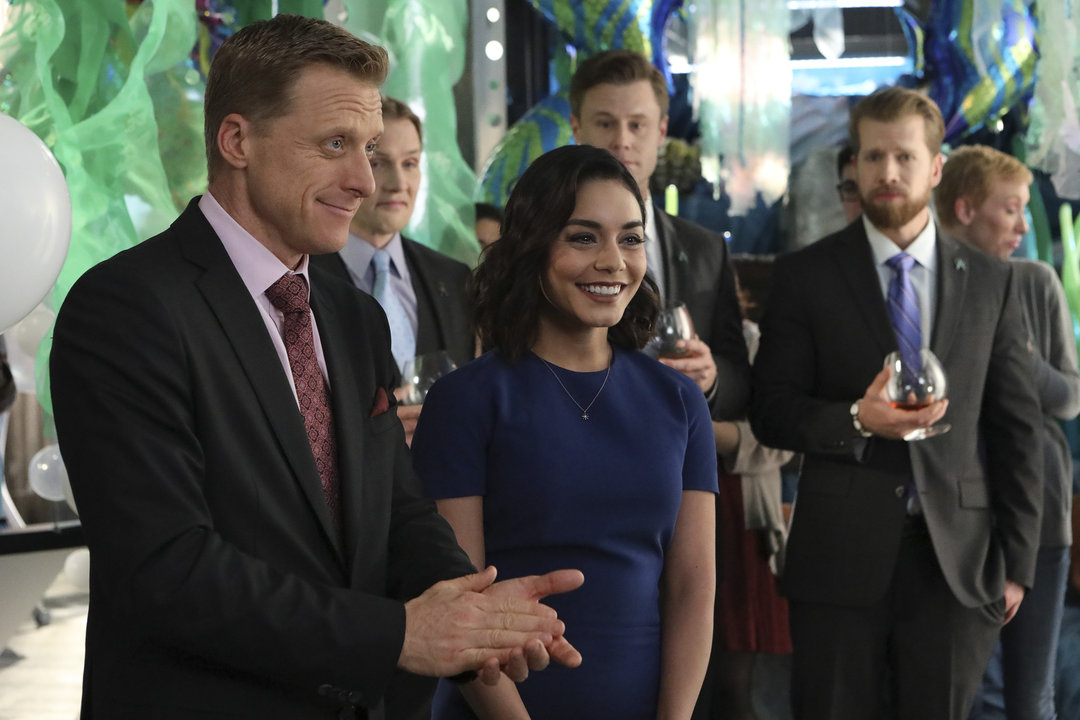 We also get to see the Emily-Van relationship turn into something more. They have gone from being totally against each other to perhaps finding shaky ground as mentor-mentee, and the quips between them are an absolute delight. Emily speaks fondly of her "tales from the flower shop" regarding her father, to which Van expresses his boredom by replying, "You never speak of your mother. Did you drive her to suicide with these stories?" It's in this third episode that we finally see these previously flat characters come to life. Sadly, the rest of the stellar cast (that Powerless just doesn't seem to know how to maximize) is still terribly two-dimensional. The writing is also all over the place, because it's not the actors' fault that the humor is mostly sub-par—they just need better jokes, that's all.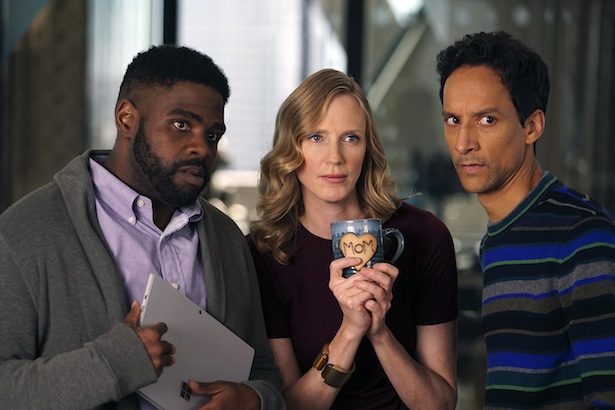 What's worth noting, though, is that the real hero in this supposedly hero-filled world is not the one flying around with a cape out in the city—it's Alan Tudyk. He pulls off his pompous "Da Boss" character perfectly—from being the credit-grabbing, corporate-ladder-climbing boss to being the little rich boy with daddy issues. His comedic genius is just…genius. No surprises there.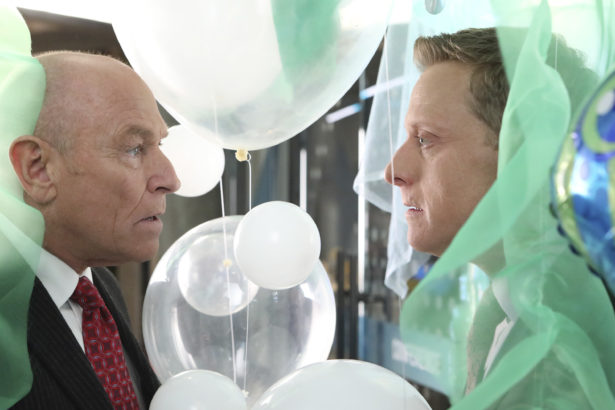 Still, there's certainly no shortage of fan service here. Ace Chemicals is, supposedly, the site where the Joker fell into a vat of chemicals and became the villain he is today (after all, the show indicates that the causes of villainy are "bad parenting, being bitten by things, laboratory mishaps, and falling into vats of chemicals" and that there is "one clown villain every three months."). There is even a mention of the Kanes, and it would be interesting to see just how the Wayne-Kane dynamic will play out in the future.
Now that we can't turn on the television without seeing a live-action adaptation of our fave comic book superheroes smashing away on the small screen, Powerless is a welcome break from all the gloom and doom. Perhaps it's just the light-hearted turn-off-your-brain nonsense that DC needs right now, and despite its unstable kick-off, Powerless definitely has potential. After all, it always takes sitcoms a few episodes to settle into their sweet spots. The show needs to reduce the focus on namedropping and instead zero in on the relationships between the everyday office workers, and we're beginning to see some of that in "Sinking Day".
At the end of the day, Powerless may be complete nonsense, but we can't deny that it is charmingly entertaining. Because sometimes, we just want to be entertained without having to question the meaning of life all the time, right? Not to mention that the opening credits of the show are already incredibly amusing.
Have you seen any of the Powerless episodes? What did you think about DC's brave attempt at humor this time around? Let us know in the comments below!