According to our very good friends at DC Comics.com on June 22, 2018, DC Comics will soon be releasing exclusive 100-page anthology issues only at Walmart! According to DC Entertainment, the four titles — Superman Giant, Justice League of America Giant, Batman Giant, and Teen Titans Giant — will arrive in stores on July 1 and be sold exclusively in more than 3,000 participating Walmart stores around the country.
The site also claims that "beginning in August, the Superman and Justice League titles will arrive in week one of each month, with the second pair, Batman and Teen Titans, arriving approximately two weeks later." And what's the best part for the 100-page books!? Each issue will only cost $4.99!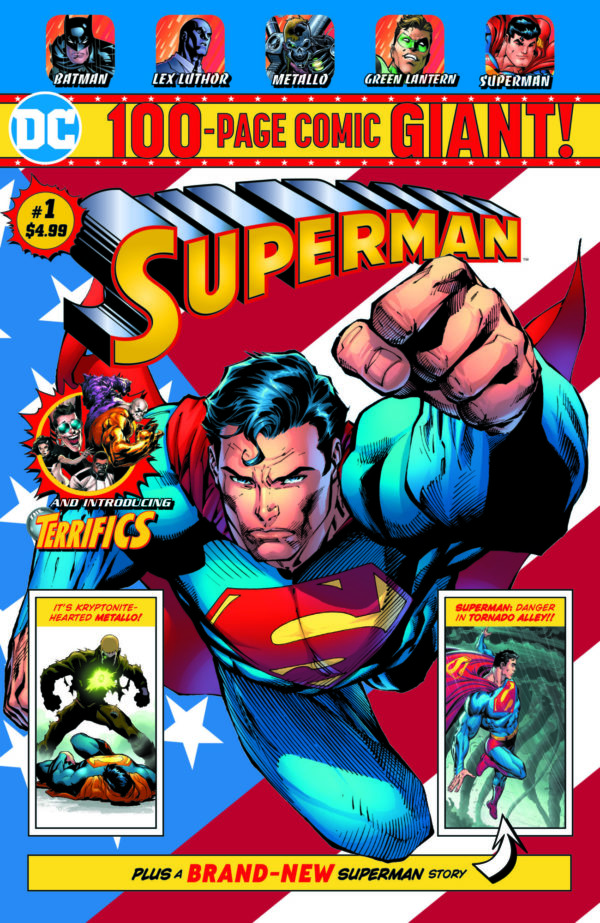 Each title will not only feature a previously unreleased new story, but will also feature some "greatest hits" stories from key DC Comics. For example, Superman Giant #1 will feature chapter one of the two-part "Endurance," a new, original story written by Jimmy Palmiotti with art by Tom Derenick. In the story, the Daily Planet sends Clark Kent to Tornado Alley to do a story on the area, but when the storm hits, it turns out that this mild-mannered reporter is more helpful as Superman. Besides this story, the issue will also feature The Terrifics #1 (2018), Green Lantern #1 (2005), and Superman/Batman #1 (2003).
September's Superman Giant #3 features writer Tom King and artist Andy Kubert on a new 12-part adventure titled "Up in the Sky!" When a little girl is kidnapped and taken from Earth, Superman embarks on a galaxy-spanning mission to find the perpetrators … but has to decide what lengths he will go to in order to save one life!
The Teen Titans Giant #1 will feature an original six-part Teen Titans story by Dan Jurgens with art by Scot Eaton, Wayne Faucher and Jim Charalampidis, in which the Teen Titans' pizza dinner is interrupted by the introduction of a new villain, the Disruptor.
Teaming up with the Fearsome Five and working as an agent of H.I.V.E., the Disruptor had one mission: kill the Teen Titans! The battle spills onto the streets of San Francisco, putting its citizens at risk, while H.I.V.E. uses this distraction to begin their plan for world conquest! This issue will also include Super Sons #1 (2017), Sideways #1 (2018), and Teen Titans #1 (2003).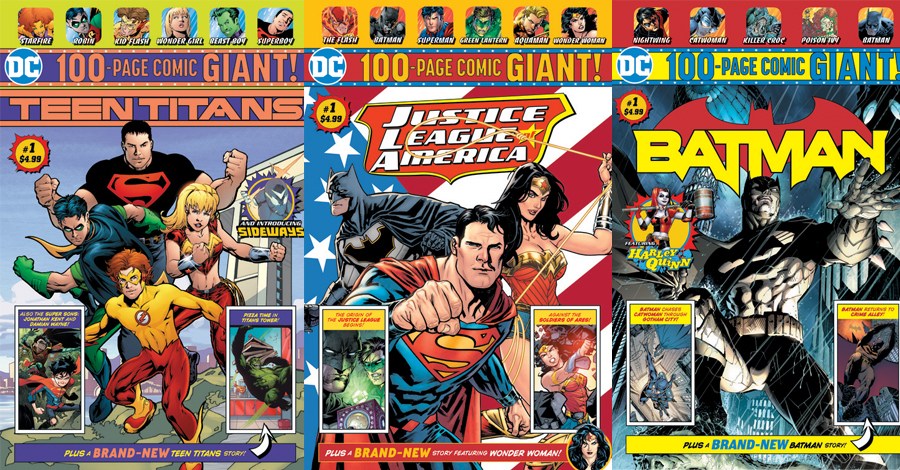 Batman Giant #1 will have Batman on the case of a missing girl in "One More Chance," an all-new story by writer Jimmy Palmiotti and artist Patrick "Patch" Zircher. Batman is the world's greatest detective, but what happens when the trail in his newest case leads him back to a place from his past that he never expected to revisit?
The issue will also include Batman #608 (2002), Nightwing #1 (2011), and Harley Quinn #1 (2011). Beginning with issue #3 in September, writer Brian Michael Bendis makes his DC debut on the Dark Knight with a 12-part story, "Universe." Batman's run-in with the Riddler leads the Caped Crusader into a mystery that spans the globe!
Finally, Justice League of America Giant #1 will focus on Wonder Woman in "The Conversion," an all-new story from Tim Seeley and artists Rick Leonardi and Steve Buccellato. In this single-issue story, Wonder Woman comes face to face with Ares, god of war — who sees her as a promising new recruit! The issue also features Justice League #1 (2011), The Flash #1 (2011), and Aquaman #1 (2011).
In issue #2, Seeley teams up with artists Felipe Watanabe and Chris Sotomayor on "Mother's Day," a stand-alone story where Wonder Woman returns to Paradise Island for the first time since her exile, only to find that the Amazons – and Queen Hippolyta – have been abducted by Echidna, the mythological Mother of Monsters, with a brood of unstoppable beasts as children!
Issue #3 begins another original 12-part Wonder Woman story by Harley Quinn co-writers Amanda Conner and Palmiotti called "Come Back to Me." When Steve Trevor's plane crashes on an island outside of time itself, it's up to Wonder Woman to rescue him from this mysterious land full of monsters, dinosaurs, and some very surprising citizens.
So, while this sounds like a GREAT deal for comic book fans with a Walmart in their vicinity, what does it actually mean for your favorite comic book shop? Again, these issues with new stories will be sold exclusively at Walmart, so the place you go to for your weekly pull list can't get them! My opinion is that it's something of a small blessing that the mega chain store doesn't sell all of the usual weekly release titles. If it did, I fear the comic book shops we've all grown to know and love would lose A LOT of business!
Since DC is packaging these new stories with previously-released material (so far, nothing pre-2002!), it's clear that one of the company's reasons for this mass marketing is to get a broader audience and get more potential fans by reprinting a lot of number one issues, giving new readers a chance to experience the more contemporary adventures of its flagship characters (even though they are reprinting a majority of the "New 52" stories rather than "Rebirth").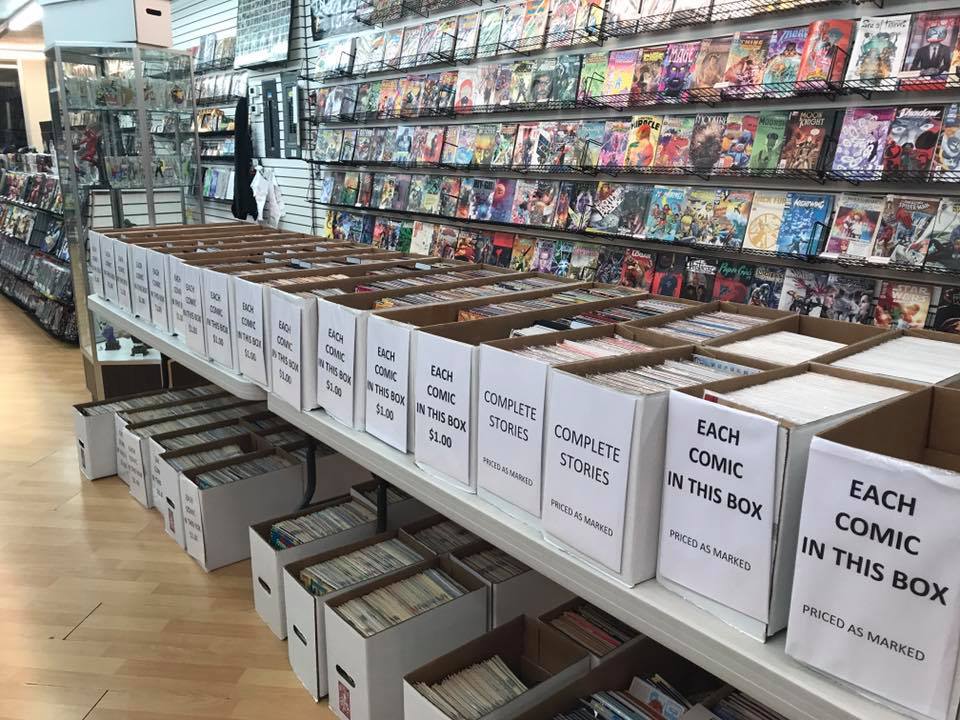 Some comic book store owners may not like the idea of exclusive issues going to a big box store like Walmart. Is Walmart trying to edge out smaller comic book stores? I don't think so. I can understand the concerns comic store owners have — concerns of a major company like DC not giving its full support to the comic book stores who read and love their stories, and instead giving exclusive content to a big store chain not known for selling weekly released issues.
And I know collectors and casual readers alike will be going to Walmart to buy these exclusive comics. Nevertheless, I don't think the comic book store as a whole will see any negative impact from this move. If anything, I believe this move will increase interest in DC's titles and ultimately benefit the comic book stores.
Compare the $4.99 Walmart price to what the two big companies — DC and Marvel — cost right now in a comic book shop: DC's typical issues at 32 pages cost $3.99, and Marvel's typical issues, also at 32 pages, cost either $3.99 or $4.99. Yes, that means new, potential readers are getting a great deal. But if they wish to continue reading up on their favorite hero(es), they'll need to make a trip to the comic store, increasing sales. And as fellow Source writer Keith O'Neil wrote in one of his last articles, that's a great thing for comic book fans all around!
There is no say yet on exactly how long DC plans on running these "Giant" exclusives; the Superman, Batman, and Wonder Woman anthologies already have 12-parters in the works. But Walmart's carrying of exclusives will not replace the sense of community a comic book store offers. At my local comic shop, I can not only get the weekly new releases of my favorite titles, but also talk with the clerks and owners about what's going on in comics, what's coming down the road, get recommendations for other titles I may like, and discuss what we love about these books or argue about favorite characters. That's not something you get at any box store!
Overall, if these exclusives will help expand the readership and fandom of these books and characters, thus improving book sales and keeping alive our favorite medium, then I'm all for it!
What about you? How do you feel about this bold move by DC Comics and Walmart? Let us know in the comments below!