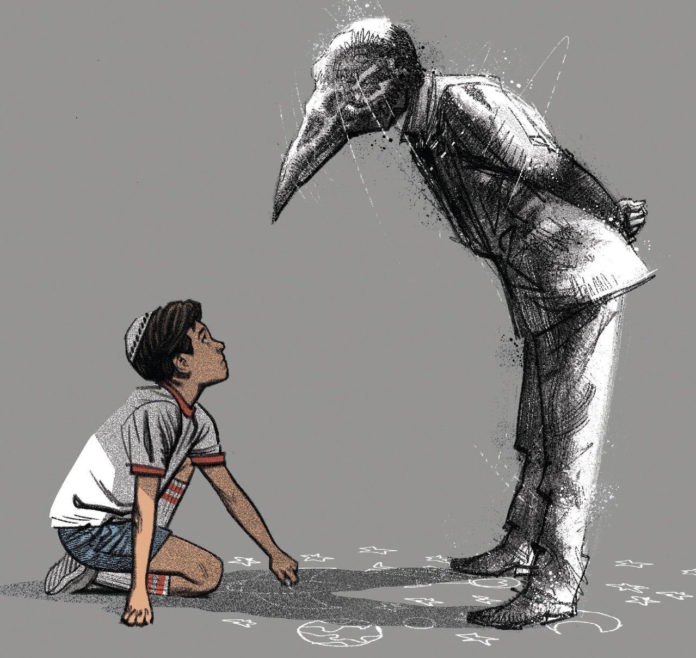 Spoilers Ahead!
Lately, "New Year, New Me" has reemerged as a popular phrase. As hopeful beings, almost every one of us desires to start this new year determined to achieve our goals. Whether it's losing weight, seeing family more often, or even putting ourselves out there, we believe we can change for the better, even when we often do not. Likewise, some of our favorite heroes fall into this common trap. After confronting each of his individual identities, the renewed Marc Spector is determined to take this "New Year, New Me" idea as far as he can by killing his own watchful guide, Khonshu. However, not everyone is trying to change; as per usual, The Source recaps the events of January's Moon Knight issue, analyzes the narrative, and ultimately lets you know our opinion of the book in our Moon Knight #10 review.
The Story: 
The issue opens in Chicago, Illinois, featuring a young Marc Spector as he meets Steven Grant for the first time. As recounted in Moon Knight #9, Marc first interacted with Steven as himself, but after some time, he would become Steven Grant. Here in the past, the reader sees the two getting to know each other. Steven tells Marc he will be rich and famous by making movies. However, this seemingly sweet, bonding moment is brought to a close when Marc's father finds him talking to himself.
At the turn of the page, the reader is taken back into the present, into the now familiar landscape of New York concealed in sand. Across the dunes, the renewed Marc Spector — in the guise of Mr. Knight — spies Gena's Diner. As he has done before, Marc returns to the diner for pancakes and coffee. As he refuels, he explains to Gena what he must do and why. He acknowledges that he must return to the hospital to put an end to this nightmare, which he assumes to be taking place in his mind. Additionally, Marc must also save Crawley, who was left with Anubis.
Back in the past, Marc and his father visit a psychiatrist in an attempt to get a handle on Marc's changes in personality and identity. As Marc waits outside while his father and the doctor discuss treatment, Khonshu appears much like the art on the cover, informing Marc that he will soon be complete with his help. But before Khonshu offers further explanation, Marc's dad begins to discuss Marc's treatment, implying that Marc will be sent some place — most likely a hospital or institution.
From there, Moon Knight #10 ends rather creatively as Marc finds himself back in the transcendent part of the hospital across from Anubis. To save Crawley, Marc makes a deal to retrieve some mysterious object for Anubis in the overvoid. As Marc dives into the void, a series of dialogue bubbles pop across the flipping, kaleidoscopic pages discussing the treatment of Marc's dissociative identity disorder and the need to "increase the dosage."
Analysis:
As if things could not get any stranger, Jeff Lemire always finds a way. Each issue of his current run on Moon Knight has gone deeper and deeper into Moon Knight's character: what makes him who he is and why. Although the events have been largely shrouded in mystery, fans of the character should definitely be picking up this book to learn more about the man behind the white mask. While most writers have always played on Moon Knight's various personalities, Lemire has gone above and beyond, forcing Marc Spector to dive deeper, literally and figuratively.
As for any predictions, which is where things could get extra spoiler-y, it appears this entire series could be more than just a trip into Spector's subconscious. Thankfully, in this comic, Marc did finally acknowledge that most of this journey has been happening inside his head. With that information, we can all take a step forward to determine why. Is the presence of the past another last-ditch effort being played by Khonshu to finally fracture Marc's fragile mind, or could it be that this entire story is taking place in the past? Is the world Moon Knight has come to know and love as a hero, a movie producer, and a cabbie just a product of the "increase the dosage" remarks by doctors in a hospital while Marc is still a child? For now, we can say nothing for certain, but we cannot say it's impossible.
Until next time, keep checking back with The Source for more updates on all your favorites heroes, villains, shows, and movies!