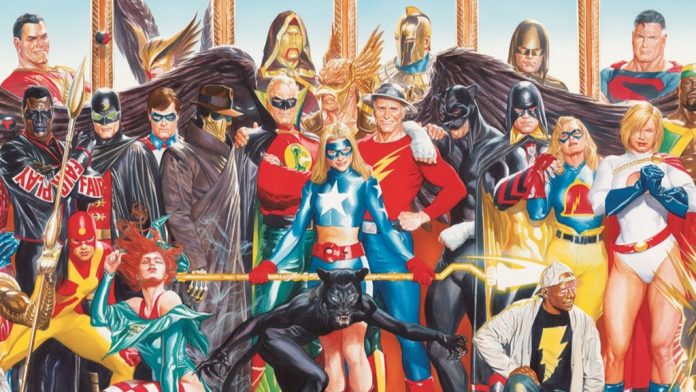 We've written a lot about DC's new REBIRTH initiative; the early reports are mostly good and we've got more REBIRTH issues coming. Next week alone brings us Nightwing and Hellblazer, both heroes in need of strong starts after their treatment in the New 52. But Nightwing and Hellblazer aren't the only members of the DC Universe who could use a strong fix during REBIRTH. Here, for your immediate reading pleasure and future argument fodder, are five more DC characters in DIRE NEED of REBIRTH!
SHAZAM

I could use a little kick in the 'ol continuity!

I didn't hate the update they gave Shazam in the pages of Justice League during New 52.  What I didn't understand was the complete mess they made of the character during Darkseid War. The creative team jettisoned the pantheon responsible for Billy Batson's powers and replaced them with obscure deities. There was just no need. The idea behind Shazam is simple: it's childhood wish-fulfillment. Billy Batson gets his powers not by alien birth or a lifetime of training, he gets them through magic. Billy Batson is the forefather of Harry Potter! Let's just strip away all of the nonsense and take Billy back to square one. Have him find the tunnel. Have him meet the wizard. Give him the magic word and the talking tiger, and then let him be fun. Would that be so wrong? I think not.

POWER GIRL

My eyes are UP HERE!

Earth-2's Power Girl was one of the best characters in that series' run. Now, it's time to bring back the Kara we all know and love. You know the one; the Power Girl who responded to jokes about her figure by putting guys through walls; the one who slapped her head at the antics of Booster Gold and Blue Beetle. Power Girl can be a strong female lead in her own series or a team book. She can be smart. She can be resourceful. In short, she's a missed opportunity waiting to be explored and mainstreamed.

BOOSTER GOLD

I'm my own REBIRTH!

Ted Kord is back in the pages of REBIRTH. That begs the question of the status of his long time hetero life-mate. Booster Gold was given great responsibility as the master of the timestream. How did REBIRTH affect the timestream? Does Booster know anything that would help the other heroes sort out the mystery of creation? Is Skeets an app now? Give Booster the ball and let him run with it.

JSA

YES!

REBIRTH is about legacy. No characters in the DC Universe symbolize that more than the Justice Society. We got a brief glimpse of them in REBIRTH, but it's time to bring the whole team back. Strip away the PC excess of Earth-2 and give us the Silver Age heroes we know and love; fights with Per Degaton and Ultra-Humanite are sure to follow. Who doesn't like fights with scientist apes? Nobody…that's who!

ROY HARPER

Dear DC REBIRTH: HELP!!!!

If anyone on the DC roster deserves a do-over, it's Roy Harper. The former Speedy lost his daughter, his arm, his sobriety and his place at Green Arrow's side. Forced to play comic relief to Red Hood, his New 52 gimmick was a trucker hat…in 2015! No more! Green Arrow is busy rebuilding a life with Black Canary, but Roy should be in the picture too.  Have him show up in Green Arrow and bring him in as the kid sidekick. Make him relatable to the younger audience. Heck, use his television characterization and make him the Prince of Parkour. Mainly, though, give the dude back his arm.

Any other DC characters in desperate need of a REBIRTH? Let us know below!