Yes, that is correct…you read that title properly. It looks like the much requested (and often thought pipe dream) of a movie is finally in the works over at Warner Brothers…a Booster Gold and Blue Beetle team-up movie! Yeah, let that sink in for a bit…a Booster Gold and Blue Beetle movie. I had to type that again just to be sure!
The Blue Beetle/ Booster Gold movie has long be a dream at WB and was even in its conceptual stages way back during Smallville days. Pretty impressive, eh? It may have been a bit harder of a sale back then, but with movies like Guardians of the Galaxy and Ant-Man, why not? Set to have Greg Berlanti (Flash, Arrow) as director, the Blue Beetle and Booster Gold movie will be more of a 'superhero buddy movie,' and the source goes to claim that, "The dynamic duo are also members of the Justice League and are being planted now to appear in a future JL movie down the road."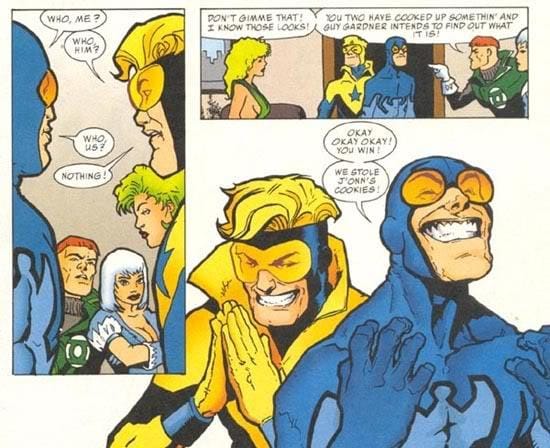 Are you excited for the inclusion of the goof-ball odd couple of Booster and Beetle? What kind of tone do you think the movie will have? I'm thinking that it will probably be mostly humorous with a tone like a Will Farrell movie…or something to that tune! Sound off with your thoughts below!