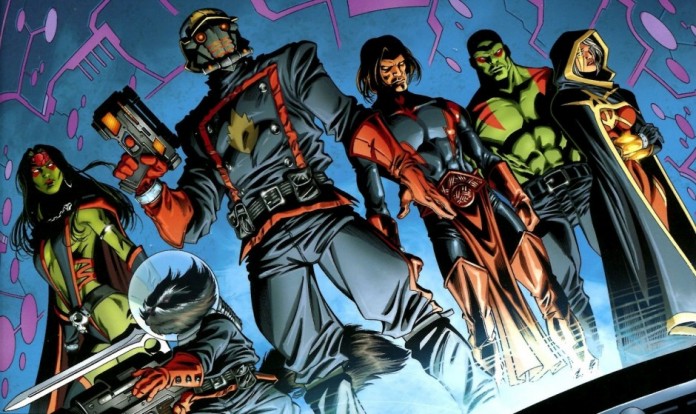 Marvel's Guardians of the Galaxy reassemble, and this time… they're not alone.
Did that picture just give you goosebumps? If not… then you are a liar. The glowing eyes of Starlord. The swagger from Gamora. The intimidating presence of Drax. And… what's that on the Destroyer's shoulder? Is that toddler Groot (I mean, he's grown since Baby Groot)!!!?? Also, who can forget about Rocket? I can't.
These guys look just like rock stars. Complete with their own logo-adorned gear, it's like an 80's sensation is back on tour and ready to bring the house down. May 2017 can't get here soon enough.
If you thought this picture was enough… then guess again. That's because new cast members for Guardians of the Galaxy Vol. 2 were also revealed, including who will be playing Mantis.
Director James Gunn unveiled on his twitter page that Pom Klementieff (2013's Oldboy) will be playing the martial arts master. Gunn has been teasing The Mantis announcement for some time, but now it's official.
But Klementieff's turn as a green skinned heroine isn't the only big news. Kurt "Snake Plissken" Russell has officially been added to the cast of Guardians of the Galaxy Vol. 2. Now the long standing rumor is that Russell will be playing Jason of Spartax, a.k.a. Star Lord's father, a.k.a. J'Son, leader of the Spartoi Empire. However, I'm going to throw out something… something unconfirmed and unsubstantiated… But just imagine it:
What if … WHAT IF… Kurt Russell is playing Adam Warlock? What if James Gunn is letting all the J'son banter continue as misdirection? Could we be playing into his hands while he gives Russell a marquee role in the MCU's Phase 3?
We know we're getting Warlock eventually. His cocoon could be seen in The Collector's warehouse in Guardians Vol. 1. Warlock also plays probably the most important role in The Infinity Gauntlet and Infinity War comic series, so it would be no surprise that he would make his MCU debut prior to 2018's The Avengers: Infinity War. Adam Warlock is coming, so why not have him be played by a grizzled Kurt Russell.
Russell is an action movie legend having starred in classic films like The Thing, Stargate, and Escape from New York. He has kicked ass, taken names and continues to march on. If there was ever a person capable of leading The Avengers into battle against Thanos, it's f###ing Kurt Russell!!!!! Now, Gunn is happy to take terrific actors and put them in minor roles (John C. Reilly, Benicio Del Toro and Glenn Close can attest to that). However, it's time to buck that trend. Let the protests begin: Russell for Warlock!!!
No matter what role Kurt Russell plays… it really doesn't matter. After the success (both critically and financially) of the first Guardians of the Galaxy, James Gunn has carte blanche as far as I'm concerned (so anything and everything could be on the table). I mean… he is giving us mini-Groot, so that's already worth the price of admission.
Oh, and you can totally buy YOUR VERY OWN, pre-grown mini-Groot right here!