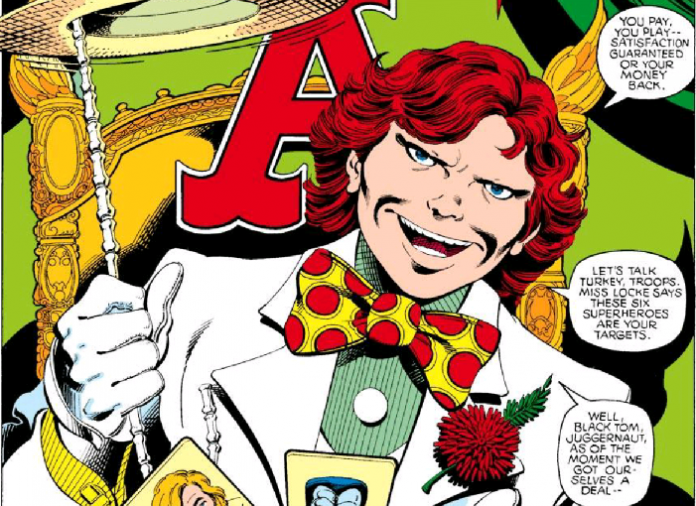 Yes, the wponx Instagram account released another 2 images teasing the world and gritty aesthetics of Hugh Jackman's third, standalone Wolverine film, LOGAN. We've already been graced with images of a severed arm, a fenced-in locale, a puddle reflecting a strobing "MOTEL" sign, an image of villain Donald Pierce, and an ominous location where Logan might find himself slathered in quick-dry Adamantium. Last night, and just a few moments ago, the wponx account released another pair of equally eerie images. The first one? Well, that's kind of a mystery. The second? Equally mysterious, but perhaps portending less death-by-giant-arcade-game. OBSERVE!
So, is this classic comic book baddie Arcade? Is he celebrating outside his elaborate compound housing a series of pinball-themed death traps, a compound currently infuriating an effectively ensnared Logan?
Or…is this a flashback to Logan's prom (in 1943)? No? Is it Sebastian Stan, the Winter Soldier? Hmmmm.
Talk amongst yourselves! In the interim, check out the second image.
Rest stop? I get the feeling this story will be very much like Lone Wolf and Cub, a story regarding a singular Samurai traveling great distances with an innocent child in toe, and incessantly beset with uncompromising danger. So, Wolverine is probably driving across the dusty dystopia that was North America, protecting a very young X-23 from whatever machinations instigated by Donald Pierce and his very merry band of half-men.
LOGAN currently has a release date of March 3rd, 2017 and stars Hugh Jackman, Patrick Stewart, Boyd Holbrook, Richard E. Grant, Stephen Merchant, Eriq La Salle and Elise Neal.