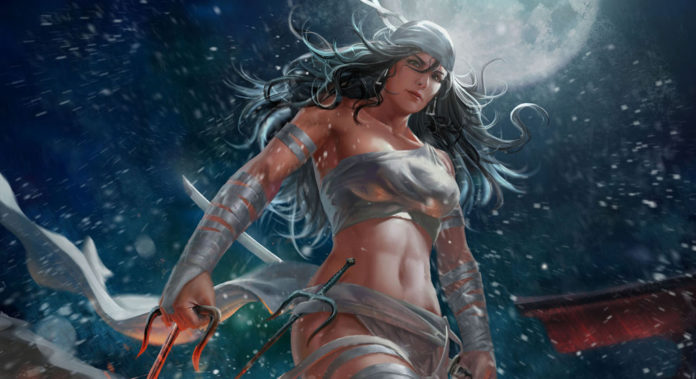 In this new Defenders teaser trailer clocking in at 14-seconds, we're treated to the heavily implied resurrection of Elektra by way of The Defenders twitter account. OBSERVE!
Oh, great. #DEFEND pic.twitter.com/PT4ldeiFRP

— The Defenders (@TheDefenders) May 2, 2017

That's right, she's back. At the end of Daredevil Season 2, the apparently, succinctly killed Elektra was stolen by The Hand and placed in a possibly restorative stone coffin indented with ancient text. This Defenders teaser trailer takes us to that very stone coffin which, after the pouring of some smoking, probably arcane liquid, begins to open.
Actress Elodie Yung was confirmed for Marvel's Defenders back in November of 2016, and if you're a comic reader, you know full well Elektra isn't one to stay dead, especially with all that crazy resurrection magic at The Hand's disposal. Anyway, we knew she would return, but it's nice to see where the story picks up.
Oh, and then the live-action Elektra herself, Elodie Yung, responded to the earlier Defenders tweet:
Did you get your beauty sleep #Elektra? ⚔️⚡️ #Defenders #DEFEND https://t.co/vqfq8ebquC

— Elodie Yung (@ElodieYung) May 2, 2017
Oh, and if anyone doubts The Hand's involvement in Defenders, they should probably set aside that all of that unfounded doubt.
The Defenders debuts on August 18th, 2017, starring Charlie Cox as Daredevil, Krysten Ritter as Jessica Jones, Finn Jones as Iron Fist, Mike Colter as Luke Cage, Rosario Dawson as Claire Temple, Deborah Ann Woll as Karen Page, Simone Missick as the absolutely stunning in EVERY WAY Misty Knight, Elodie Yung as Elektra, Scott Glenn as the returning, cantankerous Stick, Elden Henson as Foggy Nelson, and Sigourney Weaver as….Alexandra.