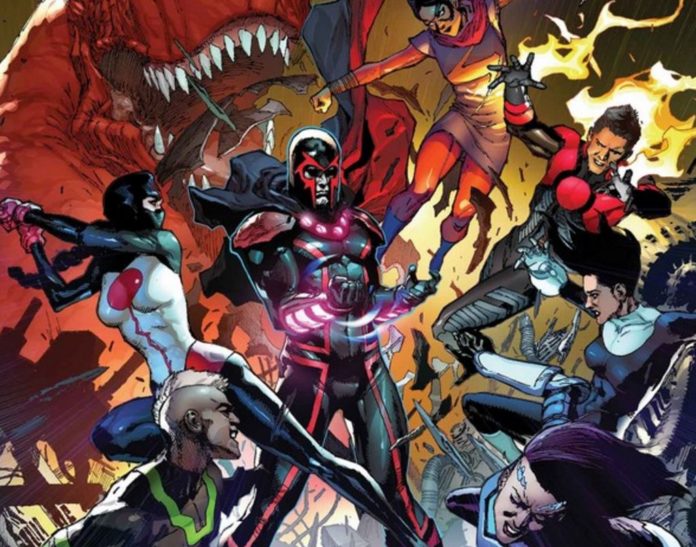 Gang, our Inhumans vs X-Men #3 review is a little SPOILER-Y, so…check back with us after you've read the issue. Oh? Still here? Thank you!
Writers: Chales Soule and Jeff Lemire
Artist: Javier Garron
Colorist: Andres Mossa and Jay David Ramos
The war rages on and the explosive quality of Jeff Lemire and Charles Soule's Inhumans vs X-Men is still on full display. In the second issue of this edge-of-your-seat thriller, the Inhumans start to fight back against the overwhelming mutant forces that shunted most of the most powerful Inhumans to Limbo.
Series like Inhumans vs X-Men are so much fun because there are so many toys to play with. So many settings, concepts, characters, and histories that can only be jumbled together and played with for maximum effect. The trick is not to get everything muddled together so every page is just a collection of stuff being banged together.
Inhumans vs X-Men #3 utilizes the Marvel Universe, and utilizes it well. Lemire and Soule play with all the classic toys and merge them with some modern ones to create a purely Marvel experience. For example, in this issue, when all hope seems lost to the Inhumans, the classic Royal Family sends out a call and modern day Inhumans like Ms. Marvel, Devil Dinosaur and Moon Girl, and Mosaic answer it. Now, yesterday meets today as this war heats up.
We are also treated to some great action with Karnak and Jean Grey, along with Old Man Logan and some of the younger Inhumans, as the writers continue to bring different and exciting conflicts into this series. And it is all held together by the potential eradication of the mutants. Many of the X-Mens' reluctance to fight is palpable but diluted by the willingness to destroy by mutants like Magneto and Emma Frost. Like I said, Lemire and Soule give all their chess pieces a chance to shine individually which results in a very satisfying read.
The same cannot be said for the art of Javier Garron who presents stiff figures and sketchy faces. Some of Garron's panels are just too darn busy to fully make out the action. Luckily, Lemire and Soule's dialogue is so engaging, it succeeds to guide the reader where the art fails.
Curious about issue #1? Check out our Inhumans Vs. X-Men #1 Review!
Interest peaked? Curious about issue #2? Then check out our Inhumans Vs. X-Men #2 Review!