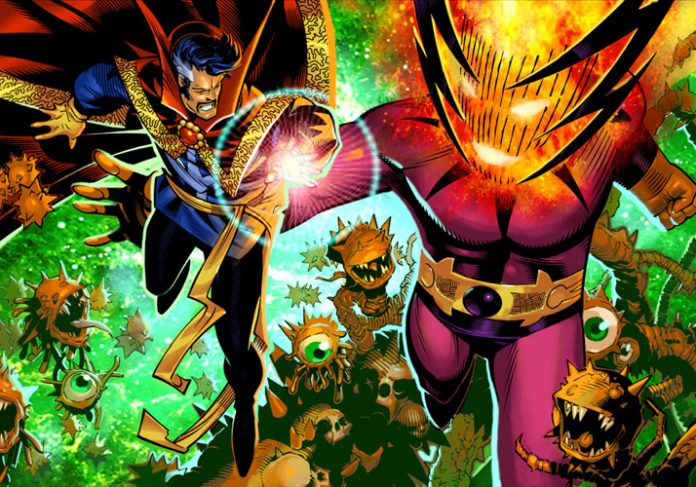 Studios do whatever it takes to protect their biggest secrets. However, in these times with camera phones, social media, and countless filmmaker interviews (where anything can accidentally be revealed), it's nearly impossible for every secret to remain under wraps. And that brings us to Doctor Strange.
(As you can tell, the rest of this post could contain a massive spoiler for the forthcoming Doctor Strange movie. If you want to remain safe inside your impressively constructed information vacuums… turn back now. Otherwise, keep reading at your own risk.)
Director Scott Derrickson and his crew have done a tremendous job of limiting the amount of materials we've seen. A few production shots have been leaked, but thanks to shooting on a contained green screen set, most of what we've seen came from the trailers that were released by Marvel. Everything was going smoothly, and all pertinent secrets remained kept…. until today.
Last week, it was revealed that Community creator Dan Harmon did some writing for Doctor Strange. We didn't know the extent of his involvement, but things might have become a little clearer. Some Redditors did a little reconnaissance and rewatched Harmon's recent presentation during this year's San Diego Comic-Con. While going through his files… something popped up. Take a look…
If you can read it, one file says "Strange Confronts Dormammu." It appears Harmon is now responsible for bringing the character Dormammu into the movie.
A quick Dormammu introduction:
He is an immortal Master of the Dark Arts and the ruler of The Dark Dimension (which was already introduced in the MCU in Agent Carter). He is also one of the most iconic villains in the Doctor Strange archives. Dormammu is a great character to be brought into the Marvel Cinematic Universe, but how he will be included in Doctor Strange is an entirely different story altogether.
Now, we've been lead to believe that Kaecilius (played by Mads Mikkelsen) would serve as the movie's primary villain. That could have been a ruse, with Dormammu revealed as the real threat (perhaps that Doctor Strange Lego set shows the entrance to The Dark Dimension?). Another idea is that perhaps Dormammu could be the "mystical version of Thanos" pulling the strings of Kaecilius the entire time. Last thought: Dormammu's appearance could be an Easter Egg, and Dan Harmon was only brought in to work on the post-credits scene.
Whatever the reason Dan Harmon was brought on is now secondary to the fact that he seems responsible for introducing Dormammu to the masses. It makes sense; Harmon's background with Rick and Morty, as well as Community, has proven that he can turn scientific and magical jargon into pure entertainment. The character Dormammu would be a difficult one to sell to audiences, but thankfully, Harmon has the uncanny ability to turn nerdy topics into television (and hopefully cinematic) gold.
In just over two months, Doctor Strange will become the latest in the long, continually growing line of mind-blowing Marvel movies. While the production team has done a great job at staying tight-lipped, leaks are going to happen… and spoilers like Dormammu always seem to get out before the movie is officially released. Let's just hope that Derrickson has some more tricks up his sleeve for Doctor Strange this November 4th.