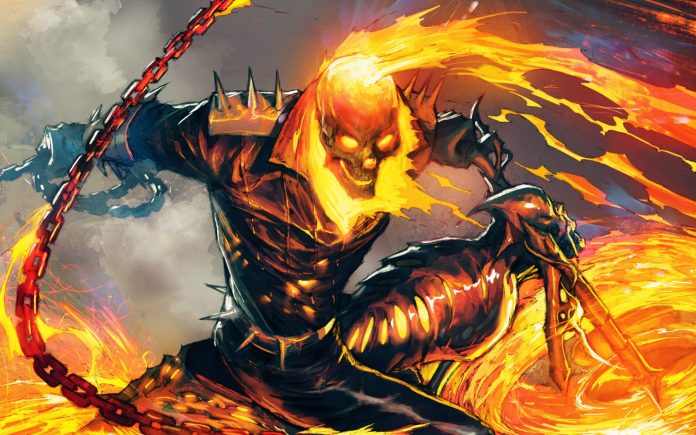 You know you made it in Hollywood when you've been cast in a superhero movie. It's the hottest genre in the business and everyone wants to be part of it. From newcomers to Oscar winners, it seems you're not officially a "star" until you land a superhero role with either Marvel or DC; this is probably why many campaign for the chance to don a heroic (or sometimes villainous) costume. The latest to offer his services is Walking Dead star Norman Reedus. When talking with Uproxx, Reedus discussed being open to playing Johnny Blaze, a.k.a. Ghost Rider.
"Hell yeah. It would be a blast. Do I get a skull face that's on fire and all that stuff? F*** yeah. I'm down."
All it takes is a simple quote like that to get fans' minds turning. The idea of Reedus playing Ghost Rider (which is rumored to be getting its own Netflix series) is very enticing. The best part? All Norman had to do was give a quick soundbite in an interview and let social media do the work for him. Reedus' quote began to trend, which got fans interested; this could eventually lead to him joining up with the MCU.
He's the latest in a long line of actors who campaign for a spot in the genre. And why wouldn't they? Again and again, superhero movies have proven to have the ability to reignite a career (Robert Downey Jr., Chris Evans), or turn someone into a leading man or woman (Chris Pratt, Chris Hemsworth, Gal Gadot). Even after winning an Oscar, actors and actresses can't resist joining up with blockbusters. Jared Leto, Ben Affleck and possibly even Brie Larson (if rumors prove true) go from winning the gold to winning a spot within a billion dollar franchise. So it seems everyone wants a shot to turn a superhero role into a building block for a stacked IMDB page.
Be honest; no one outside of wrestling fans heard of Dave Bautista until he was cast as Drax the Destroyer, and he turned that momentum into roles in Spectre and Blade Runner 2. With Bautista's successful transition, other wrestlers have taken notice. For example, WWE superstar Sheamus is using his role as Rocksteady in Teenage Mutana Ninja Turtles: Out of the Shadows as a catalyst to actively push for a coveted spot in the Marvel Universe: the role of Venom.
"No offense to Topher Grace, but he just didn't look like Eddie Brock. He looked like Eddie Brock had been on a hunger strike for a few weeks," Sheamus said speaking at a panel at Wizard World Comic Con in Philly. "I want to be part of the Marvel Universe. I'm a big fan of Marvel comics and The Walking Dead and Game of Thrones, but I would love to be part of the Marvel Universe."
Clearly Sheamus is not as subtle as Reedus in his desire to join the superhero world. Perhaps he should take notes from MMA superstar Ronda Rousey. After dipping her toes in the acting world with roles in movies like Furious 7, Rousey wanted something bigger. So, during a Reddit AMA session, she threw it out that she wanted a shot at playing Captain Marvel. The idea spread like wildfire, which led fans to do mock-ups of "Rousey-ified" Carol Danvers.
The news even reached the ears of Marvel Studios' President Kevin Feige, who addressed the idea of campaigning for roles during an Avengers: Age of Ultron Q&A last year.
"I love it. That happens occasionally, and I think that's a testament more to the strength of the characters. Going back to my early days at Marvel, there were always various people campaigning to be Wolverine. I guess that was pre-Twitter and pre-internet days, but still for some reason would pop up in Wizard Magazine. Wizard Magazine would always have 'This person wants to play this role!' It's a testament to how great the characters are that it appeals to such a wide range of talented, talented people."
The art of campaigning for a role is nothing new, but social media has made it even easier for an actor to throw their hat into the ring. No role has received more recent traction then that of Cable. When Deadpool teased Nathan Summer's arrival in the X-Men world in an after-credits scene, internet rumors began to come from everywhere. Dolph Lundgren, Mel Gibson (both mentioned in the scene by Wade Wilson, along with Kiera Knightley) and others have spoken about the possibility of playing the role. However, no one has gone further than Stephen Lang.
The Avatar star immediately threw his hat into the ring, noting his similar appearance to the character. Fans took notice and soon began doing mock-ups of Lang as the time-traveling mutant. Instead of talking about the role in interviews, Lang used his twitter feed to amass a plethora of fan art… constantly retweeting every picture that comes his way. Should he end up getting the role of Cable, it will ensure Lang plenty of work in future X-Men movies. That alone is worth the twitter guerrilla campaign he has done for the job.
It appears Lang has taken notes from Tyrese Gibson. For years, Gibson has said again and again how he'd like to take on the role of John Stewart in a Green Lantern movie. A veteran of blockbuster franchises (Fast and Furious, Transformers), he seems like an ideal choice should the character be brought to the big screen. Unfortunately, Warner Brothers was sticking with the Hal Jordan version of the character. However, after constantly posting fan art and proclaiming his love for the character, Gibson told Collider last year he was allowed to meet with the studio to discuss the role.
"I've already had a couple of meetings at Warner Brothers, so we'll see what happens. I do believe that there needs to be more black superheroes out there, but that's not even my motivation. I think I would be the best Green Lantern and based on my fans and supporters that spent around $6 billion in box office receipts, I feel like there's a fanbase of fans out there waiting to see me put on this green suit and do my thing. So I would love to confirm something today but I can't. We'll just keep following up."
It should be noted that around the time Gibson met with the studio, Warner Brothers announced a future Green Lantern movie would actually be called Green Lantern Corps and is now rumored to feature both Hal Jordan and John Stewart. So, did Gibson's push pay off? Was his campaign for the role of John Stewart the reason the studio made the change? Only time will tell. Just think: it all happened because Gibson spent time pursuing this role on social media.
So it shouldn't be a shock when Brian Tee says he wants a shot at playing Namor. Or Josh Hutcherson creates his own audition tape to play Spider-Man. I mean, if someone (*cough*) Ryan Reynolds (*cough*) didn't leak the test footage for Deadpool, he may never have had the chance to play Wade Wilson, or turn the character into a bankable franchise. Being a superhero is more than just another role, it's the chance to use the character as a stepping stone to super-stardom.
Just ask Chris Hemsworth or Tom Hiddelston if joining Thor was the best things for their careers. They went from unknowns to household names thanks to their Marvel-based characters. Now Hemsworth has moved onto other franchises like Ghostbusters and Hiddelston is in the running to be the next James Bond. Could they have gotten there without an MCU detour? Possibly. Still, there's no denying that winning those roles changed – and possibly saved – their careers.
So in five years, when we're discussing how Ghost Rider turned Norman Reedus into a leading man, or how Tyrese Gibson is the best Green Lantern to date, remember where their journeys started. It could be a Tweet, an Instagram post, or a throwaway quote from an interview; it's something small that can get the ball rolling and get fans' imaginations going. Just ignore any rumors having to do with Nicolas Cage wanting to be Superman. Please don't let that become a thing…again.